What our customers are saying:


NOTE: This is a ONE TIME offer, you can NOT get this anywhere else.
The formula in SayByeBugs was put on the test by a specialized University Entomology and Nematology department and proven to destroy bed bugs on contact. So it's not only family & pet safe but it's also completely deadly to bed bugs. A perfect combination.

And the best part?

You can get all of the products above for special discounted prices only this one time with a 90 day no questions asked money back guarantee.

PS: Remember, this is a special discounted offer only available to our new customers.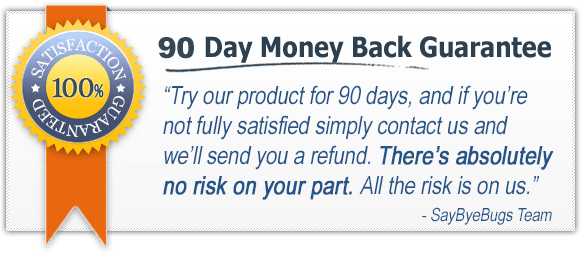 * Sales tax will be applied for eligible purchases. More info here.

* Product is safe when used as intended.
Call our customer support toll-free: +1 (855) 290-8300
Open Every Day 5:00 AM to 5:00 PM CST

Frequently Asked Questions
Terms & Conditions | Privacy Policy | Refund & Return Policy | Contact Us
Customers Log In | Customer Reviews | About Us | Affiliates | Product Label & Ingredients Say Bye Bugs - www.SayByeBugs.com
SayByeBugs™ is proudly manufactured in the US.
© 2023 - All Rights Reserved.