The compounds in our product have undergone rigorous University laboratory testing by a specialized Entomology and Nematology department as well as consumer testing!
Using SayByeBugs you can be confident you're using a secret weapon bed bugs have no chance winning against.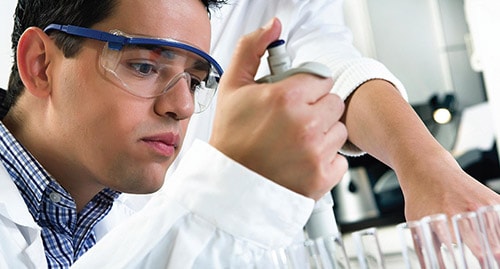 The reason it's different from other solutions is because it uses a safe active ingredient to efficiently stop bed bug infestations.
Our ingredient list: Active Ingredients: 3% Sodium Lauryl Sulfate, 1% Sodium Chloride, 0.2% Citric Acid. Inert Ingredients: Water, Yeast, Urea, Sodium Benzoate, Potassium Sorbate. Ingredients total 100%. Proudly manufactured in the US.
So how does it work? Its highly effective water-based formula with a safe active ingredient attacks and destroys bed bug's exoskeleton making it an incredibly effective solution without being toxic to humans and pets.
Because of our special formula SayByeBugs is:

ODOR FREE – The strong scents associated with toxic pesticides and pungent oils are not a factor with SayByeBugs.



STAIN FREE – Competitors' oil-based products leave a greasy residue that stains linens, furniture, and mattresses. SayByeBugs may be sprayed directly on mattresses, box springs, pillows, furniture, headboards, or any water-safe surface without leaving a stain.



PYRETHRYN FREE – Many other bed bug sprays use Pyrethrins which are neurotoxins. Pyrethrins can cause difficulty in breathing, sneezing, nasal stuffiness, headache, nausea, incoordination, tremors, convulsions, facial flushing and swelling, and burning and itching sensations. SayByeBugs on the other hand uses a formulation that is completely free of toxins that would affect non-target species such as humans and pets.
"I am grateful and incredibly impressed with this product! I was skeptical at first, but found it works to kill the bugs on contact with one small spray on a bug. Hope and have faith that it may work on the eggs as well. Awesome product! Thank you!"

Sandra M.
Valued SayByeBugs Customer